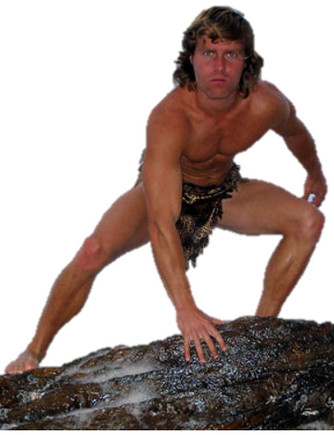 Ka-Zar is Kevin Reginald, Lord Plunder, born in Castle Plunder, Kentish Town, London, England. He is the eldest son of Lord Robert Plunder, the English nobleman who discovered the Savage Land. After his mother had died and his father was killed by the barbaric Man-Ape natives of the Savage Land, Plunder was found and raised by the sabertooth tiger Zabu, who possesses near-human intelligence thanks to a mutation caused by radioactive mists. "Ka-Zar" means "Son of the Tiger" in the language of the Man-Apes. Ka-Zar and Zabu are constant partners. Ka-Zar became an expert hunter, trapper, and fisherman, living off the wild land.
Powers and Abilities
Edit
Although Ka-Zar once claimed he was endowed with superhuman strength by the vapors in the Land of Mists, this is not true. Ka-Zar possesses no superhuman physical powers, but his natural athletic, hunting, foraging, and combative abilities have been honed to superb athletic conditioning, by spending two-thirds of his life surviving in the wilds of the Savage Land.